I did "Ko-kutani" work
Ko-kutani manifest a different style from other Japanese traditional pottery painting such as Kakiemon or Ko-imari..
Although there are only a few colors available, Ko-kutani is so powerful and an energy radiating from the colors can be felt.
The color "Kochi" is used in the process. Kochi is applied thickly .When fired it melts and looks like a glaze
Materials Colors: Kakiguro (Matt black),
Kochi/ Midori (Green). Ao (Blue), Murasaki (Lilac),
Ameiro (Ocher), kiiro (Yellow)
Medium: Water based or Nikawa(Glue)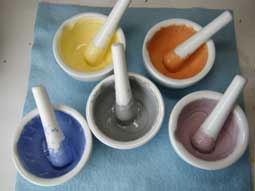 1,Outlining with matt black
1)The pattern on the porcelain is outlined with stabilo pencil.Carbon paper lining may repel the Kakiguro(Matt black), so stabilo pencil is recommended for outlining the design.
2)Paint the lines of the pattern with Kakiguro (Matt black)
3)Apply the various patterns or dots inside the design as you like (enjoy!).
Matt black lining hold Kochi well.
4)Apply the Kakiguro(Matt black) on the outer side of the plate in the same manner as the inner side.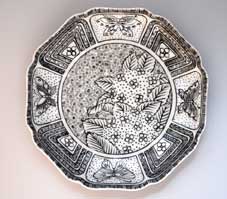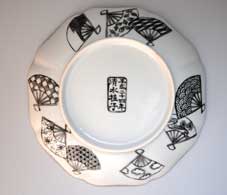 ☆Painting the outer side will make the plate so gorgeous.
First firing ・・・800℃
Caution: The lining of matt black may be removed if you scratch strongly even though it has been fired
2.Application of the Color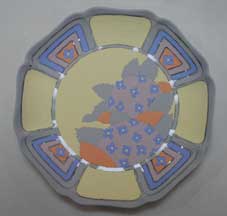 Apply the color of your choice. Since there are only 5 colors, it is better to plan the application of each color to the area desired
Apply the color as thickly as you have never done before. (You rather pile on top, not paint.) The lines of matt black must be covered completely except the white area you want to leave white.
☆Don't forget to work on the outer side .
Second firing.....780℃(very slow)